Pay Per Click "PPC" & Cost Per Click "CPC" Marketing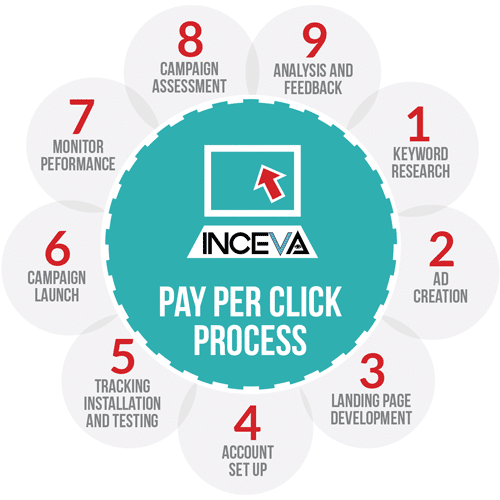 Pay Per Click Advertising sometime referred to as Cost Per Click,CPC or PPC offers a quick way to generate traffic to your website and fantastic returns on your investment.
PPC Advertising using creative ads can capture your perfect customer through laser targeted interruption marketing tactics and permission marketing strategies used in local marketing.  An Optimized PPC campaign is a powerful business strategy to generate targeted inquiries to your website and/or landing page. Paid Advertising ( To Google Adwords, Bing, Facebook etc) allows small and medium sized companies unparalleled access to place your products or services in front of thousands of potential customer at the  exact point that he or she is ready to buy. You can place you advertisements directly on web properties like Sanook, The NY Times, Bangkok Post, Wall Street Journal, Facebook, Instagram, YouTube and many others instantly on topics and pages that relate to you and your business.

Inceva can create valuable PPC marketing solutions for client accounts across a wide spectrum of small, medium and enterprise businesses across California & Thailand. The beauty of a well planned paid online advertising campaign is the distinct ability for you to track everything including phone and sms marketing to see the numbers and how each baht/dollar of your spend is generating a click and which one of those clicks are converting to sales. Unlike traditional print advertising like magazines, billboards and print media (yellow pages, flyers etc) digital advertising and seo marketing can help pinpoint exactly what works and what doesn't work so you can "feed the stallions" and "starve the ponies" that just don't make any money. Our detailed campaign performance data provides regular updates explaining just how well your campaigns are performing 24 hours a day 7 days a week.
Our clients can rest assured knowing we are constantly monitoring your accounts and squeezing last drop of return on your precious investments with each and every sale and click.
BETTER IDEAS – BETTER IMPLEMENTATION – BETTER RESULTS

Inceva offers Google Adwords & Analytics Certified Personnel and we are Microsoft Advertising Accredited Professionals. Managing Millions of Baht in advertising campaigns and skillfully implement successful strategies that help increase your companies profits, ROI and bottom line.
Inceva Advertising Solutions For:
In-Depth Keyword Research and Selection

Create Winning Ad Copy that Generates Clicks

Site and Landing Page Optimization

Integrative Analytics and Conversion Tracking

Manual Bid Management

A/B Split Testing to Improve Conversions via Testing Ad copy, ad, groups,creative graphics and text,campaign level analysis etc

PPC Monthly Reports and Analysis
Inceva Paid Marketing solutions are built on strong technical and mathematical based backgrounds. We have systems and processes in place that help us constantly achieve fantastic results for all our clients. Successful PPC in Thailand campaigns and online marketing both require a very rare combination of detailed analytical abilities, technical expertise and marketing skills. At Inceva, those skills come standard.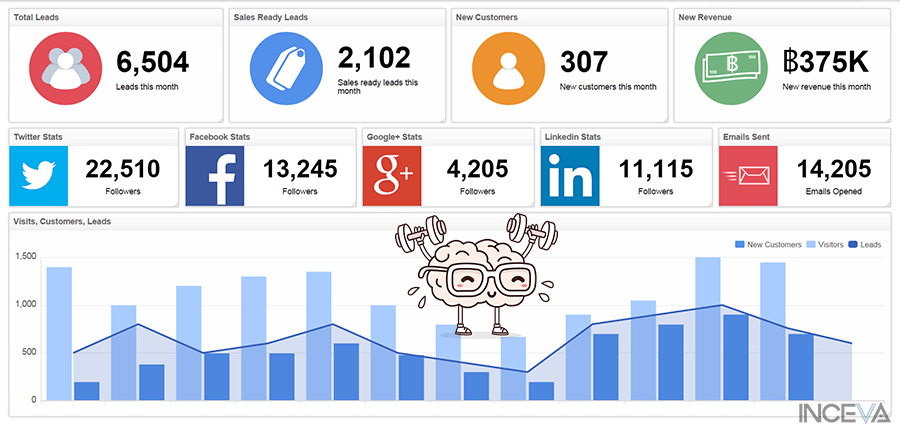 What will a Paid Advertising Campaign Cost?
Inceva is one of the premiere advertising agencies specializing in real estate and eCommerce. We bring an extensive background in managing successful paid advertising campaigns across a vast range of business sectors and industries. Our PPC solutions can make a BIG difference in almost any campaign. More than half of the account we took over last year had been wasting significant chunks of their total advertising spend and getting poor results with no understanding why.
For most clients, our fee is entirely paid for by the audit and improvements to their existing campaigns.

Inceva helped us accelerate revenue acquisition by quickly grasping of our family business needs, prioritizing the projects we had, and formulating an effective attack plan for our executive team. They helped combine our new investment marketing channels which increased, established functional KPIs and optimized our sales & marketing engine. I recommend them without any reservation.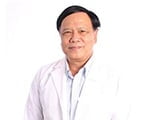 ผมมีความประทับใจในพรสวรรค์และความชำนาญด้านการตลาดของคุณแซลแมนและทีม อินซีว่าเป็นอย่างมาก  ความสามารถในการโฟกัสบวกกับการแปรเปลี่ยนความรู้ความสามารถนี้ให้กลายเเป็น ผลกำไรและการเติบโตขององค์กร Bio Consult Organization ช่วยแบ่งเบาผมอย่างมหาศาล  แซลแมนและทีมอินซีว่าเปรียบได้กับสินทรัพย์ที่มีคุณค่าต่อบริษัทของผมและพวก เขาก็ประสบความสำเร็จเป็นอย่างยิ่งในการสร้างส่วนแบ่งทางการตลาดให้กับ เรา

From the very beginning we had someone that took the time to learn our business before making recommendations. We were a startup and one of their smaller clients but always felt important and respected. Inceva kept their promises and helped us rank on Google for some very competitive terms. We could not be any more pleased with the great results.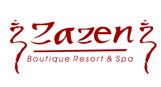 The staff and management at Zazen would like to thank you for making our members only program a great success. Your idea turned out to be an integral part of our longterm revenue goals and overall marketing strategy. Since March, our repeat business, and overall revenue has generated millions of Baht in new revenue as well as increases in our food and beverage revenue from locals.

Our dental office hired Inceva to grow our medical tourism sales using Pay Per Click advertising on Google and also social media marketing. In less than 1 month they double our new leads and reduce our marketing costs overall. We were very pleased with our results and are now working on a new website for our Branches in Phuket & Pattaya.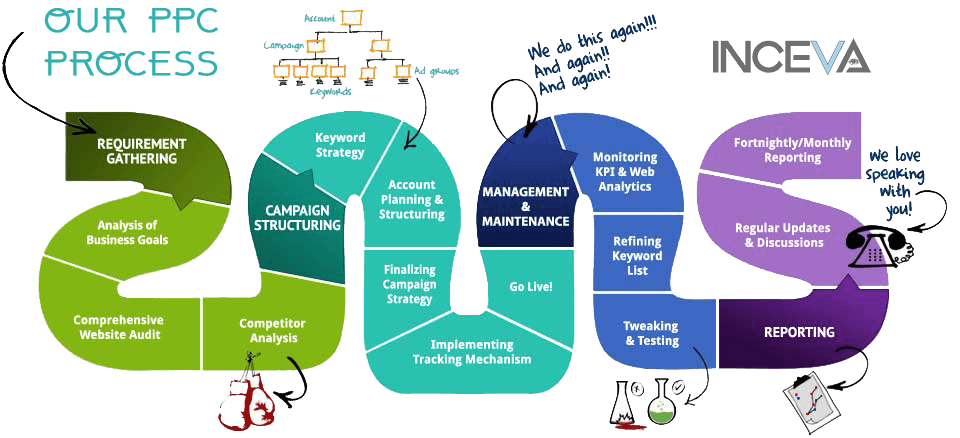 For companies with 4 or more employees, Inceva offers complimentary marketing audits of existing advertising campaigns with absolutely no contractual obligations. Our value will be defined very clearly and contingent on performance. Once we have reviewed your advertising account, we would be very happy to help you and your team manage your advertising campaigns on an ongoing monthly basis. We typically charge an initial set-up or take over fee the first month and then an ongoing monthly maintenance,optimization and a small management fee of the total advertising spend.
We are 100% confident that represents fantastic value for your money!
If you are looking for a tidal wave of targeted traffic to your business product, service or website, then look no further. Inceva PPC solutions can ensure that you are getting the highest rate of return on your investment anywhere.